I am always tempted to buy the beautiful bright pink rhubarb that appears in the shops at this time of year. Mostly I resist because it's really quite expensive and in another couple of months we have plenty of our own in the garden.
Then last weekend we were shopping on the market and saw some that seemed quite reasonably priced. Actually, to tell the truth, I have no idea what it cost, I just couldn't resist the beauty of it so I bought it anyway.
There's something about the pink rhubarb that seems different from the green stuff that grows in our garden. I'm sure that in reality they taste exactly the same so perhaps it's the fact that we can get it NOW, when the weather is grey, cold and altogether grotty. It always makes me think of summer.
When I was a little girl my parents had two huge rhubarb patches at the top of their long, sloping garden, one either side of my dad's hand-built greenhouse. He has a photograph of me taken at about the age of five, in black and white of course, hiding behind the pea row, munching on a stick of rhubarb and dipping it into some sugar which I had tipped into my hand.
My mum's rhubarb pies and crumbles were to die for. She would never have put rhubarb in a cake or have combined it with anything else, such as orange, strawberries or chocolate. Except that occasionally she would add a few chopped dates – we liked the flavour and the "medicinal" properties were legendary !!
The pink rhubarb we get here is grown in the "rhubarb triangle", around Wakefield in Yorkshire. I remember seeing a TV programme about it two or three years ago, where one of the growers took the presenter into a shed where you could actually hear it growing – strange but true – there was a constant creaking noise as it pushed its way up through the compost.
A few more years ago than that, Nick and I came a cross a bunch of rhubarb growers from Wakefield on holiday in France. What a jolly lot they were !! We were at the end of one of our marathon motorcycle camping tours of France and, having done about 2,000 miles in a fortnight, were treating ourselves to a night in a nice hotel before getting the ferry home. Having heard only French being spoken for two weeks it was odd to be surrounded by Yorkshire accents. One of the desserts on the menu for the evening was something made with rhubarb and I remember clearly the laughter of these rhubarb growing folk ringing out in the restaurant as they criticised it mercilessly !!
With my lovely pink rhubarb I fancied making something other than my standard crumble so I looked on the internet and found this Good Food recipe for something called a "rhubarb and orange slump". As I was making it I realised it is really a cobbler by another name. In any case, it doesn't look much in the photos but by golly, it was delicious !!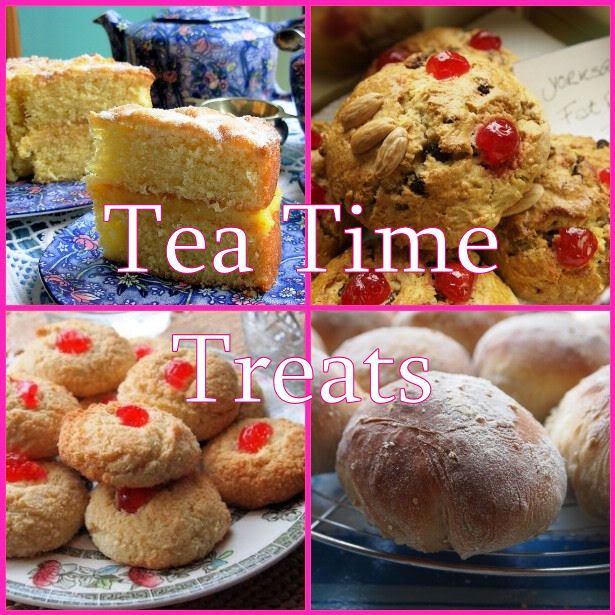 I am linking it to this month's Tea Time Treats Challenge, created by Karen of Lavender and Lovage and Kate of What Kate Baked – because this month's challenge is for puddings !! Kate is in charge for February and this is my second pudding to be submitted – puddings are very much my thing !!
Rhubarb and orange slump
900g rhubarb, wiped and cut into 3cm lengths
zest and juice of 2 medium oranges
140g caster sugar
200g self raising flour
85g cold butter, cubed
150ml milk
2 tbslp flaked almonds (optional)
Method
Preheat the oven to 190°C / 170°fan / gas mk 5. Grease a gratin or other baking dish.
Put the rhubarb in a medium saucepan with the orange juice and one tablespoon of the sugar. Heat gently and cook for about 5 minutes until the fruit is soft. Tip into the prepared dish.
Put the flour and butter into a food processor and blitz to breadcrumbs. Mix in the orange zest and the remaining sugar. Add enough milk to make a soft dough – softer than pastry but firmer than a sponge mixture – by pulsing again.
Drop tablespoonfuls of the mixture onto the fruit, scatter the flaked almonds over (if using) and bake for 25-30 minutes until the topping is crisp and golden.
Serve warm with cream, custard, ice cream or whatever you fancy.
Serves 6.