We did incredibly well at our Children in Need cake stall at work this year, beating last year's total and raising nearly £800! I will tell more about it later.
The last two years a colleague made a blackberry and apple crumble cake, which looked delicious and sold out really early. Sadly she no longer works for us but I remembered how popular the cake was and in fact some of our "regulars" actually asked for it, so I set about finding the recipe. I was sure she said it was a Nigel Slater recipe and even gave me a copy of it, which I have obviously mislaid/misfiled. However, it was not too difficult to find on the internet, several versions in fact, turning up in blogs and so on. I think the original is this one here.
By ten o'clock it was selling well so I sneakily took a slice to share with a colleague so that we could actually taste it !! It's quite frustrating when you bake a cake that looks really good but never get to see what it tastes like. It was absolutely delicious.
It's not the quickest cake to make and takes a long time to bake – mine took over an hour – but it's well worth the effort. I found it difficult to decide when it was done as when I did the skewer test it came out wet from the fruit.
It was lovely served as a cake but would also make a nice dessert – definitely one I shall be baking again and it would be worth experimenting with other fruits to the same recipe I think. It was such a winner at the cake stall that next year I would be tempted to make two of them !!
It's such a lovely cake that I am entering into this month's Tea Time Treats challenge.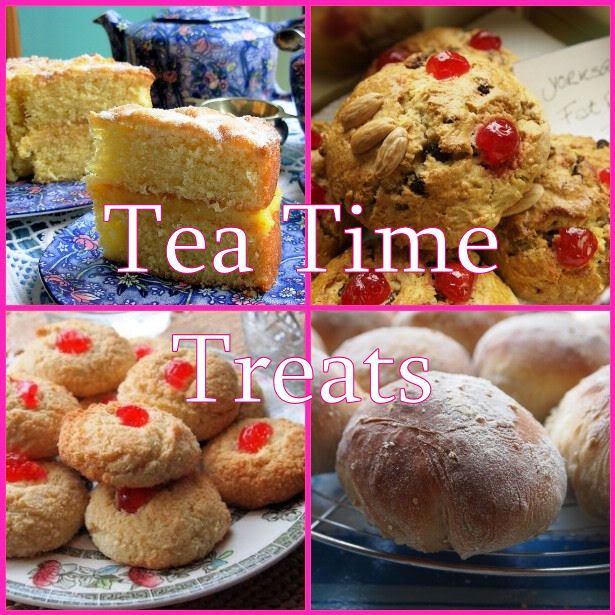 Tea Time Treats is one year old this month so I would like to wish a HAPPY BIRTHDAY and send my congratulations to Karen of Lavender and Lovage and Kate of What Kate Baked. Many a cake has been baked in this house as a result of inspiration from these two blogs !!
Ingredients
150g softened butter
150g caster sugar
3 large eggs, lightly beaten
75g plain flour
1½ tsp baking powder
110g ground almonds
1 large eating apple
150g blackberries
For the crumble topping
100g cold butter, cut into cubes
100g plain flour
110g demerara sugar
2 tblsp porridge oats
¼tsp ground cinnamon

Method
Grease and line a deep 20cm round springform cake tin. Preheat the oven to 180°C/160°fan.
First, make the crumble topping by rubbing the butter into the flour. Stir in the oats, sugar and cinnamon. Set aside.
For the cake, beat the butter and sugar in a mixer until light and fluffy. Add the eggs a little at a time, beating in after each addition.
Sift the flour and baking powder into a bowl and mix together, then fold them into the egg mixture, followed by the ground almonds. Spoon the cake mixture into the tin and level the top.
Cut the unpeeled apple into quarters, remove the core (I use a melon baller for this) and then cut into thin slices. Put the slices on top of the cake and then push gently into the mixture. Add the blackberries and then scatter the crumble mixture on top.
Bake for about an hour, remembering that a skewer will be wet when testing the cake due to the fruit – the cake is done if there is no gooey mixture stuck to it. Cool in the tin. Dust with icing sugar when cold.
Cuts into 10-12 slices.