When I saw the rules for this month's Tea Time Treats challenge, hosted by Karen of Lavendar and Lovage and Kate of What Kate Baked, a shiver went down my spine and the ghost of my old domestic science teacher appeared briefly before me. Scones are my nemesis.
As the month went by and I noticed all the other scones popping up on my sidebar, I thought it was time I banished the teacher's curse for ever and had a go. Surely for once in my life I should be able to bake a batch of edible scones?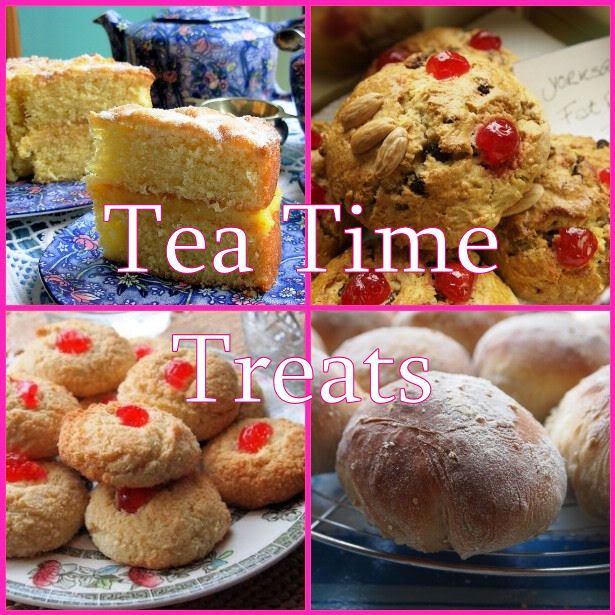 Mrs Stafford controlled her unruly pupils using a "good cop, bad cop" kind of approach, except that she was both good and bad cops. She did it by choosing one child whose life she would make a total misery and one who would be teacher's pet. The unlucky one was me. She turned me into a gibbering nervous wreck and some disaster befell me every lesson. I would forget a crucial ingredient as I made up my little basket to take to school on the bus, my cakes would go soggy, my pastry would burn and my scones would have made perfect house bricks. She declared in front of the whole class that I was useless at cooking and I have never made an edible scone ever since !!
My friend at work gave me her recipe for scones to try, the Claridges recipe, that uses cream and requires a lot of processes. I thought I might have a go at that but then changed my mind – house bricks would be such a waste of the cream.
So I turned to my faithful old Be-Ro book, except that I decided to look in the brand new 41st edition. Sure enough, the first page in the book was for scones, saying how easy they were to do and how the whole world and his mother have been baking scones quite effortlessly to the Be-Ro recipe since 1927.
That's the trouble, everyone talks about scones as if making them is nothing, as easy as scrambling an egg or buttering toast, adding to my acute sense of domestic inadequacy. The last time I attempted scones was for a visit from my mother-in-law, about ten years ago, and they were terrible. Hard and wonky little things with crozzled currants in them. The only saving grace is that she is not known for her cooking skills and consequently thought they were "very nice dear", but I exchanged glances with Nick over the teacups – we both knew different. They were horrid.
So that was it. Time to pull myself together, get on with it, bite the bullet, look the ghost of Mrs Stafford in the eye and bake some. How hard can it be?
The recipe was for Victoria scones, presumably with the same royal connections as the Victoria sponge (something else that gives me the collywobbles), and I thought it looked a good one for me to bake as it produced four large scones which you then divide up. Less need therefore for perfection in shape and size, I thought.
I did everything absolutely to the book, ingredients measured to the last gram and all lined up like ducks in a row, oven preheated and baking tray greased.
The instructions in the recipe were a bit vague in places – presumably because everybody in the world already knows how to make scones with their eyes closed. So when I got to the part where I had to "knead lightly on a floured surface" I wondered how you would do that with something that resembled a lump of porridge. I had to add a lot more flour to be able to work the dough and my heart sank……I was destined to end up with house bricks again, I was sure. Rolling it out proved impossible so I simply shaped and flattened them by hand.
Next I should cut a cross in the top and place ¼ glacé cherry in each section, but no hint was given how deep you should cut – in any case the dough was so soft it was difficult to cut into it at all.
Once they were in the oven, things started to look up. They were rising and browning beautifully so I checked how much time there was left on the timer only to discover I had forgotten to set it going !! Disaster !! I had only the vaguest idea how long they had been in and would have to use my initiative to decide when to take them out of the oven. Mrs Stafford rides again. She was there, behind me, looking over my shoulder as I peered into the oven.
At least nowadays you can see into the oven. The 1960's kitchen of my school days was equipped with wartime relics and the old gas cookers were those sturdy green enamel jobs with big knobbly taps and solid doors. If you wanted to see how things were cooking there would be no option but to open the oven door and peep inside, something guaranteed to lose most of the heat and spell disaster for sponge cakes. Or to risk leaving it a bit longer before opening it, resulting in brown burnt rings round my mince pies.
But this time luck was on my side. I took them out and gave them a bit of a prod, thought they might be not quite done and put them back in for two more minutes. After the two minutes I decided to go for it and take them out.
They looked yummy. True, they would not win any beauty contest or village show but otherwise the signs were good. They smelled nice and another prod revealed a little give – not like a house brick after all.
I was just spreading my second small triangle with butter and my own home-made plum jam when Nick arrived home from work. We sat outside in the unusually warm spring sunshine with a cup of tea, a home-made scone and big grins on our faces. They were delicious.
I thought I heard a slight moan from the ghost of my old domestic science teacher as she disappeared over the rooftops on her broomstick, or maybe it was just my imagination !! I wonder what Queen Victoria would have thought of them?
You can see the recipe for Victoria scones on the Be-Ro website here in the section for scones and tea loaves. You can also order your own copy of the Be-Ro recipe book from the "about us" page.
Here's my version of Victoria scones:
This is what I used
225g self-raising flour
pinch of salt
50g cold butter, cubed
50g caster sugar
1 egg
100ml milk
4 glacé cherries
This is what you do
Preheat the oven to 200°C/180°C fan/gas mk 6. Grease a baking sheet.
Put the flour, salt and butter into a food processor and blitz until you get fine breadcrumbs.
Tip the mixture into a mixing bowl and stir in the sugar to distribute evenly.
Beat the egg with the milk. Add most of it to the flour and mix to form a soft dough, reserving a little to brush over the scones.
Turn the dough onto a floured surface and knead lightly. Divide into four pieces. Roll each piece into a ball, flatten slightly to about 1cm (½") thick and shape into a round with your hands.
Cut a cross on the top of each scone with a sharp knife and place ¼ glacé cherry in each quarter. Brush the tops with the reserved egg and milk mixture.
Bake for 10-15 minutes or until golden brown.
Serve with butter and jam and a cup of tea.
Makes 4 scones, which will divide into 4 portions each.