I am quite a fan of mini muffins. They are barely more than a single mouthful in size and consequently as a treat they are far less daunting a prospect than regular muffins. I sometimes find that just one regular muffin is quite filling, and could never eat more than one, whereas mini muffins are so easy to eat that one is never enough – and I don't feel at all greedy in eating a second or even a third.
I made these soon after our return to France for what was going to be quite a long stay. I knew I would be leaving our UK kitchen for several weeks so I had a quick look around for anything that would soon need using up and that I could take with me. Among the various bits and bobs I found a packet of white chocolate chips in the cupboard and half a pack of fresh blueberries in the fridge.
I used my old faithful recipe which I have used before and in no time at all rustled up just one tray of mini muffins. Most muffins have to be eaten on the same day as baking but these mini versions kept well for three days in a cake tin. Which means I had three days to eat the lot as Nick is not all that keen on muffins……!!
This month's We Should Cocoa Challenge, organised by Choclette of Tin and Thyme is "anything goes".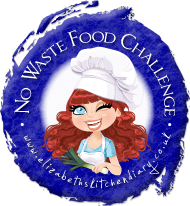 The No Waste Food Challenge is a monthly event of Elizabeth's Kitchen Diary which celebrates the using up of all food rather than throwing it out.
Ingredients
150 g plain flour
50g caster sugar
1 tsp baking powder
a pinch of salt
1 egg, beaten
50g butter, melted and cooled
100 ml milk
75 g blueberries
75 g white chocolate chips
Method
Preheat the oven to 200º C (180º fan) and butter a 24 hole mini muffin tin.
Mix together the flour, baking powder, salt and sugar in a large bowl.
Add the butter, egg and milk and mix together quickly. Add the fruit and chocolate and mix in as briefly as possible, avoiding over-mixing, as long as there are no dry bits of flour.
Divide the mixture between the muffin holes. (I use a mini ice cream scoop to get the amounts reasonable even.) Bake for 12 - 15 minutes until risen and golden.
Cool in the tin for a few minutes before turning out to cool on a wire rack.
Makes 24.